At 7 Spot Group, we utilize all of our resources to build the best possible brand positioning for every client.
We understand that the achievement of true integration and optimized messaging is a difficult task that can only be realized when our best people work closely with your best people. Brand building requires an in-depth knowledge of your products and processes, the kind of knowledge that can only be achieved when a core group of top agency talent takes total responsibility for all of the work.



When you work with 7 Spot Group, you can be sure that our most experienced advertising professionals will be assigned to your account full time, every time. That's because we're lean and efficient. Our key players are our only players. The management team that pitches your business will handle your business. The creative team that fashions your website will create your print advertising and your social media message. The result is synergy and true integration. Your message will be clear, consistent and on target. Everywhere.
Seven Ways to Strengthen Your Brand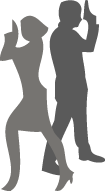 If your brand has the look of a second hand store, consumers will turn away.
Logos should be consistent in appearance and placement.
All your marketing materials should be of one family. Lay them out and have a look.
Use no more than three different fonts and use them the same way in all materials.
The background colors and imagery of your various materials should be similar or, at the very least, complementary.
Overwrought design can lead to inconsistency. Establish a baseline and tonality for the brand.
The voice and personality of the brand should be compatible with the look.
Once you've established the look and personality of your brand, make it the bedrock foundation for every part of your business. Have you noticed how the look and personality of Apple stores is in synch with the design of Apple products?